Mestres 2008 Clos Nostre Senyor
2008 Clos Nostre Senyor
It is amazing what you can discover when you are not looking for it! Cava, was certainly not on my radar, particularly when tasting at a salon for fortified wines in Jerez! As they say however, you should never let a good thing pass you by. Tasting the Mestres wines proved a real revelation and adding them to our list of agencies quickly became of prime importance.
In complete contrast to the insipidly neutral qualities of Prosecco, these Gran Reserva wines of Mestres offer truly amazing vinous complexity. Produced with low yields, from old vines of 40 - 80 years of age, the wines are aged in chestnut casks for 10 months prior to bottling and everything from the harvest to the remuage, is performed by hand with meticulous attention to detail in every aspect of production. What really sets these wines apart of course, is the length of time they remain 'sur lattes', from 42 months for the first cuvee, to 210 months plus. It is the quality of the base wine and this extended ageing, which give the wines such extraordinary complexity.
The 2008 Clos Nostre Senyor is where the true impact of the Gran Reserva ageing can really be appreciated. In contrast to the first cuvees of the range, which are aged for 42 and 60 months respectively, the 2008 Clos Nostre Senyor spends 100 months resting on its lees. Elegant and aromatically rich, with hints of toasted bread and cocoa. Light notes of brioche, dried fruit and apricots. Dry on the palate, but with wonderful complexity and tantalizing depth of flavour, whilst retaining freshness and finesse.
It is astonishing how these magnificent Mestres wines have remained relatively unknown in the UK for all these years. The Mestres family have been winegrowers in Penedes since 1312, producing the first Champagne method, sparkling wine over a century ago, in 1928. One of the most exciting aspects of our work is seeking out, exciting new producers, but discovering Mestres, was truly like finding 'buried treasure'.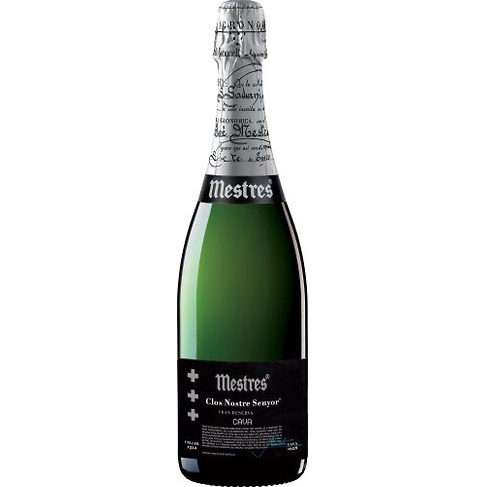 The wines of long ageing from the MESTRES winery have obtained excellent scores in the latest report of the Spanish wines of the prestigious publication founded by Robert Parker: The Wine Advocate. The last report is signed by the Spanish taster of the publication: Luis Gutierrez. Highlights with 91- 95 points out of 100!
Luis Gutierrez states about the Clos Nostre Senyor 2008 that "It had more developed aromas than older wines and a lot more than wines from close vintages like 2010. It's intensely balsamic, nutty, medicinal and with some mineral-like notes. polished, with integrated bubbles 3,548 bottles produced ". Luis Gutierrez gives a magnificent 91+ points to the CLOS NOSTRE SENYOR.
In stock
£33.32
Be the first to hear about our wine tasting events, offers & new imports
Join thousands of other wine lovers & subscribe to get news about our latest offerings, new vintages and tastings delivered straight to your inbox