The Wines Of Ximenez Spinola
When it comes to the wine we drink, just like with many things in life, we often find ourselves reverting back to what feels comfortable. The tried and tested wines/ grape varieties/ regions etc that we trust and enjoy, only on occasion branching out and trying something new. We are creatures of habit after all. However, every now and then we stumble across a new little gem that reminds us of the world of unexplored, yet sensational wines that are out there. Sometimes, from the places, we'd least expect. Enter the wines of 'Bodegas Ximenez-Spinola' of Jerez, Spain.
It's not every day that you come across a winery dedicated to cultivating one grape variety exclusively. It then becomes particularly peculiar when, in this case, that grape variety is the often overlooked 'Pedro Ximenez' (which is usually associated exclusively with sherry). Nevertheless, the team at Bodegas Ximenez-Spinola has always taken great pride in doing things just a little bit differently.
Established in 1729 by Philipe Antonio Zarzana Spinola and situated in the sherry capital of the world, Jerez, Ximenez-Spinola has remained an independent and family-owned company throughout its history. It is also the only winery in the world devoted to the Pedro Ximenez grape variety exclusively, and with nearly 300 years experience, they are widely recognized as masters of their craft. So much so that the Spanish authorities granted them their own accreditation for the PX variety - 'Pedro Ximenez Variety Denomination".
Proud of their history and differential value, a 'Family Council' was set up to maintain and prolong the companies heritage. There is no interest in the production of large volumes here, only the quality of its products and remaining loyal to its followers. Consequently, all production is limited and numbered, making each bottle a unique piece whilst ensuring the quality and excellence of its content. Not only that, the wines are elegant, sumptuous and quite stunning.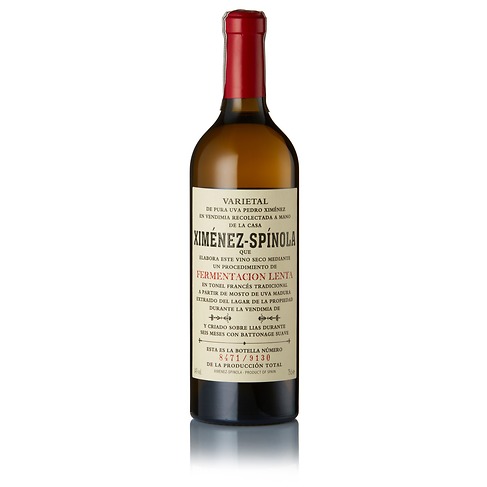 Pedro Ximenez grapes are left to over ripen on the vine for 21 additional days to the conventional harvest. Harvested by hand and transported in 15kg boxes to prevent damage to the fruit.
Soft pressed and fermented on the skins in French Oak barrels (225 and 300l). To ensure slow fermentation, 30 litres is added to the barrel each day which means it is fermented totally dry. The musts are kept on the lees with soft battonage for six months in barrel.
clean gold colour with green highlights. The nose is marked by the French oak, which accentuates the raisin and prune aromas. A soft palate despite the high alcohol and a pleasant finish of ripe fruit and oak.
£39.89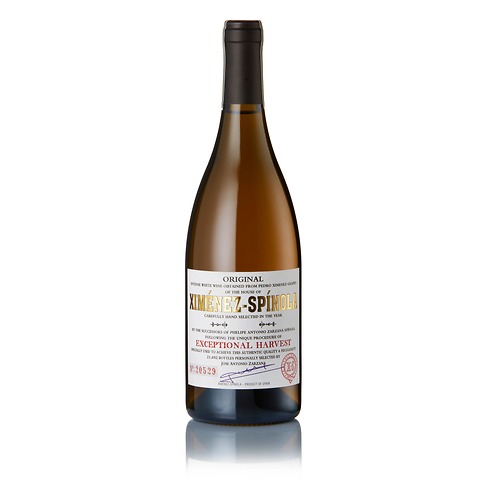 Ripened on the vine for 21 additional days after the first trie, acquiring a natural sweetness without too extreme a concentration. This makes the final yield of this wine to be only 575 liters per ton of grapes.
Aged on the lees for 4 months in old American oak barrels.
Golden in colour with an intense nose with the exceptional aromas expected of a late harvest: figs, raisins and prunes that blend with the pastry, typical of aging on lees. Light and intense in the mouth. Subtle, filling but not tiring. The acidity and natural sweetness play with ripe and fleshy fruit, leading to a long aftertaste in which the oak is so elegant.
£27.13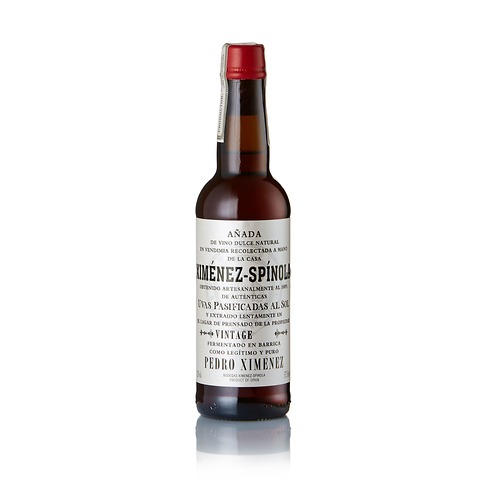 Once cut, the grapes spend no less than 21 days exposed to the sun, which dehydrates them slowly and progressively, concentrating the sugars and providing an elegant natural sweetness.
This wine gets its alcohol naturally taking advantage of the blending with less dehydrated grapes that reach the winery in the first days of sun-drying. Fermented in American oak barrels to reach 12% then held for three months in wood. It is clarified by a natural decantation through a soft cellulose filter directly to the bottle to keep its natural aromas and flavors.
A vibrant amber colour, ripe grape and raisin on the nose. Fresh palate with a velvet entry and well integrated acidity. Dates, figs, raisins and a lengthy finish.
Simply divine with desserts made from dark bitter chocolate.
£26.47
Be the first to hear about our wine tasting events, offers & new imports
Join thousands of other wine lovers & subscribe to get news about our latest offerings, new vintages and tastings delivered straight to your inbox