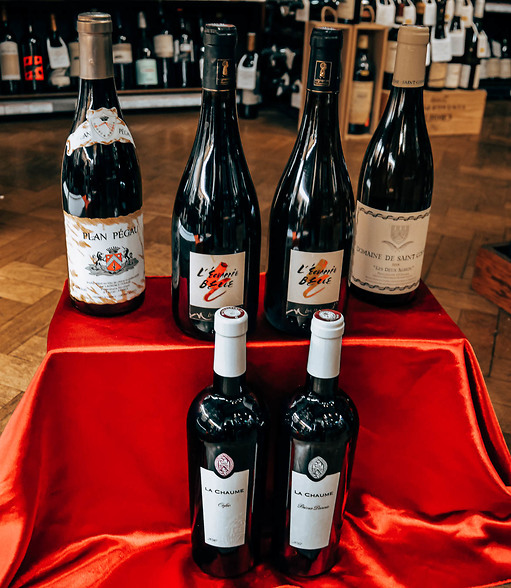 ON OFFER
Gauntleys Mixed Wine Cases

'And Now for Something Completely Different' - Case of 12
This is a special offer 12 bottle mixed case containing 2x each of the following wines:

Loïc Mahé, VDF L'Echappée Belle Blanc 2017
Loïc Mahé, VDF L'Echappée Belle Rouge 2017
Prieure La Chaume, IGP Loire 'Prima Donna' 2013
Prieure La Chaume, IGP Loire 'Orfeo' 2010
Chateau du Pegau, VdF 'Plan Pegau'
Chateau St Cosme, IGP d'Orange 'Les Deux Albion' Blanc 2018

Shedding a light on the beautiful and lesser-known blended wines from Albert Boxler, with last weeks 'Boxler's Bewitching Blends', inspired this week's discovery case. More specifically, it got us thinking about all of the unique, quirky, unusual and simply inspired blends, from winemakers that we love, that are often misunderstood and can get overlooked, because they don't fit neatly into an easily identifiable box. As you will know, every appellation has its own standards of practise, and list of boxes a cuvée has to check in order to achieve A.O.C status, and be designated as a 'Lirac', for example. From the grapes allowed in the mix, to the vineyards those grapes must come from, to the methods of vinification, age of vines etc. This is obviously all to achieve a consistent 'identity' and level of quality for an area, and cuvées that do not meet the criteria are obviously designated IGP's or VdFs. This is why each individual winemaker's story is so important, and it is one of the reasons why we at Gauntley's have always felt it as important to talk about 'people', as it is to talk about 'place', when it comes to wine. I'm sure you'll be aware that many, when passing bottles on a shelf labelled IGP or VdF, would automatically assume them to be lesser quality than the A.O.C labelled wines, and sometimes that would be the correct assumption. However, in the case of today's discovery mixed case, nothing could be farther from the truth. It is one of the many things that can be confusing and difficult to navigate, when it comes to the world of wine, however, at the same time it's also why it's is so interesting, varied and exciting. It's not straightforward, and you're always discovering and uncovering something new! The wines we bring to you today, are produced by masterful winemakers, some of whom have helped define their respective appellations in the eyes of the wine world. These cuvées are simply aiming for something different to their respective 'classic' appellation styles, and can't be neatly designated or put into a box. Make no mistake, these are wines of incredible quality and craftsmanship, wines that we love. We are delighted to share some of the stories behind these 'humble' IGP's and VdF's with you. Let's dive in to our 'And Now for Something Completely Different' Mixed Case.

2017 L'Echappe Belle Blanc

Due to the extreme conditions at flowering in 2017, Loic lost a large percentage of his crop. Turning a catastrophe into a triumph, Loic took the decision to try something new, truly thinking 'outside the box'. Joining forces with two of his great friends in Alsace and Bordeaux, he selected grapes from their estates to blend with his own, to produce this fabulous pair of wines. Perfectly named, 'L'Echapée Belle' literally translates to 'The Beautiful Escape'.

Made from Chenin Blanc from vineyards south of the Loire, blended with Pinot Gris grapes from his friend in Alsace, Philippe Brand, this is a unique and exciting wine. Philippe shares the same organic principles of viticulture as Loïc, but is also biodynamic. There is great depth to the pale gold colour in the glass and a very aromatic bouquet. The aromas are slightly oxidative, but very enticing with orchard fruits, pears and quince combined with a mouth-watering, saline minerality. The palate has the same intensity and depth as you'd expect after the nose, with lovely clean pear fruits and the same saline mineral notes again. The balancing acidity adds a real vibrance to the wine and the palate is full of life and energy. Everything is perfectly balanced and in tune and the length is fantastic. The Chenin and Pinot Gris prove a great partnership here and will pair superbly with seafood, poultry and vegetable dishes. A serious, classy wine, offering a refreshingly different expression from each individual varietal.

2017 L'Echappée Belle Rouge

As with the 2017 L'Echappée Belle Blanc, Loïc ventured outside the appellation to produce this refined red wine. Here Loïc has blended Cabernet Franc from vineyards south of the Loire, with Merlot and Malbec grapes from his vigneron friends: Bruno and Christine Duhamel, who share his same organic philosophy and dedication to quality, in Bordeaux. Again, the unexpected blend marries beautifully, offering lovely pure blackberry fruits, with secondary aromas of subtle spice, cedar, mineral and bramble fruits. The addition of the Merlot and Malbec really adds a subtle depth and roundness to the palate, giving it a very different feel to classic Loire Cabernet Franc reds. The balance is truly harmonious and the tannins are fine and seamlessly integrated. There is surprising sophistication here, a gorgeous purity and ample amounts of charm. Both the red and the white are unusual blends perhaps, certainly something very different, however the results are utterly delicious!

2013 Prima Donna

For his Prima Donna white, Christian took his inspiration from one of France's other great appellations, opting for what he describes as, the most famous and successful blend for white wine in the world, Chardonnay and Pinot Noir. However, he also believes that Champagne is an 'industrial' wine, which requires the addition of sugar to achieve the secondary fermentation. By contrast, he is looking for the optimum ripeness in his grapes and a natural balance. The result is spectacular, with a fabulous depth and intensity, with the same richness of flavours of a fine, mature Champagne, with hints of honey, brioche and apple fruits, but with a mouth-watering salinity and clean drive of acidity. Everything is in tune here. Possessing real poise and sophistication, the wine dances on the palate maintaining its line and energy throughout its impressively long finish. With undoubtedly more years left to delight, now in her prime, this Prima Donna is worthy of her name and status and will make a great partner to a wide variety of dishes, from sushi or shell fish, poultry and white meat dishes or fromage a chevre.

2010 Orfeo

Christians whole range is superb; however, it reaches its true culmination with his 'Orfeo' Cuvée. This is a truly wonderful wine which exhibits fabulous intensity and stylish complexity, offering aromas of ripe black berries, spice and very subtle hints of liquorice, but still with a restraint and finesse. It is made from the Domain's oldest vines and is a blend of Merlot and Cabernet Sauvignon, with a smattering of Negrette for spice. You have the power, complexity and richness of those wonderful Bordeaux grapes, harmoniously matched with the minerality, acidity and finesse of his limestone and chalky Loire terroir. It truly is a match made in heaven and this sumptuous cuvée really shines. Decanting a short while before drinking is the best way to truly experience wine properly.

Plan Pegau

Moving away from the classic Southern Rhone GSM (Grenache, Syrah, Mouvedre) mix, with this cuvée Laurence opted to go for something a little different. The Plan Pegau is a mix of 30% Grenache, 30% Syrah, 20% Merlot, and the 20% balance a mix of old-vines Carignan, Mourvèdre, Cinsault, Danlas and Cabernet Sauvignon. It is also a reserve blend of 3 different vintages: 2015, 16 and 17 (If you look at the clock icon on the bottle neck you can see what vintages have been used). Laurence wanted to create a cuvée that reflects the hallmark personality and style of Pégau, whilst also being an approachable VDF for everyday wine buyers. The result is a rich, meaty red, which captures the essence of the Southern Rhône Valley, with layers of red and dark fruit character, soft supple tannins from the merlot, and complex spice notes from extended aging in small oak barrels. It offers a true and loud echo of the traditional Pegau style and profile, and is the "little brother" of the Domaine du Pegau Cuvée Réservée Châteauneuf-du-Pape. Enjoy with game, hearty stews, and grilled meats.

2018 Les Deux Albion Blanc

This is a stunning cuvée, new in 2017, produced from 40% viognier, 30% Marsanne and 30% Piquepoul (certainly an unusual but intriguing mix!). Always looking to branch out and experiment, this is, in Louis' words, an answer to the markets increasing demand for interesting, good quality and good value Rhone white wines. Vinified from grapes in his newly purchased Saint Martin Vineyards in Violes, this was a real little passion project for Lois. The soils here have an incredible concentration of limestone and that is reflected in the wine. Wonderful freshness, aromatic finesse and salinity. A meditatative nose that one could contemplate for hours with dried apricot, marshmellow, heirloom rose and mint shining through and the palate is no less spectacular! The uncompromising and often self-critical Louis has said that he is extremely proud of this wine, the outcome is beautiful. We are very happy to be able to share it with you today. Do not think twice about the 'IGP' on the label, simply technicality, this is a world class, exotic and unctuous white wine. It is easily paired with dishes that feature creamy sauces, white fish, and roasted pork or chicken. Picpoul brings acidity to the blend and gives this wine salinity, making it a superb choice for cooked or raw shellfish. However, honestly this just scratches the surface of what this wine could potentially accompany. Honestly, go crazy. Get creative!
local_shipping
UK delivery
We deliver to most of the UK within one to two working days using specialist wine couriers London City Bond.
store
Click and collect not available for wine
Wine is shipped directly from our bonded warehouse so unfortunately you can't use Click and Collect for wine.
info
Delivery options
At the checkout you can leave instructions for the courier to deliver to a neighbours address or left in a safe place around your home if you are out. You can also send to an alternative address such as your work.
assignment_return
No hassle returns
Just call us on 0115 911 0555 within 30 days to arrange
flight
Delivery outside the UK
For all delivery destinations outside of the UK - although your order is not subject to UK VAT it will be subject to the local taxes and duties of your country. These charges are usually levied once the package reaches your country. Any additional charges for customs clearance must be borne by you; we have no control over these charges and cannot predict what they may be. Customs policies vary widely from country to country, so you will need to contact your local customs office if you require further information.

To check if we can deliver to your country, and to see the delivery cost, please select your country in the basket page.
ASK US ANYTHING
Got any questions? We'd love to help. Call us at the shop on 0115 911 0555 or send us a message here