The Incomparable Chateau d'Or et de Gueules
Welcome to the extraordinary world of Chateau d'Or et de Gueules, a winery owned and run by the incomparable Diane de Puymorin. We are thrilled to be working once more with the wines of this remarkable estate, situated in the sun-drenched vineyards of the Costieres de Nimes, southwest of Avignon. In recent years this Domaine has become a beacon of innovation and excellence in winemaking, and we are delighted to be able to reintroduce them to you today with our 'Chateau d'Or et de Gueules Discovery Case'.
Diane, one of the most exciting new vignerons to emerge in recent decades, purchased Chateau d'Or et de Gueules over 20 years ago, and since then, she has transformed its fortunes. With a deep respect for the terroir, the vineyards are worked organically, ensuring that the wines truly reflect the unique characteristics of the land. Her dedication to quality is evident in every step of the winemaking process. Yields are intentionally kept low, ensuring that each grape receives the utmost attention and care. The grapes are harvested as late as possible, often with successive tries, allowing them to reach their optimal ripeness and flavour profiles.
Once harvested, fermentation takes place in enamel-lined vats, imparting purity and freshness to the wines. Aging is carried out in a combination of tanks and oak barrels, resulting in a beautiful balance between fruit expression and subtle oak influence. Indeed the cellar is a wonderful hotchpotch of old enamel-lined fermenters, gleaming stainless steel vats and a selection of new and old barrique and demi-muids which put a gleam into the eyes of any self-respecting cooper.
However, what truly sets Chateau d'Or et de Gueules apart is Diane's unbridled passion for experimentation. She constantly pushes the boundaries, be it through barrel-fermenting her white wines or crafting a variety of late-picked sweet delights. The aging of her red wines in a combination of oak and steel showcases her love for different wood types and sizes, resulting in wines of remarkable complexity. Much like our good friend Even Bakke of Clos de Trias, for the vast majority of her cuvées, Dianne aims to release them when she feels that they are ready to be consumed. All her wines are consistently spectacular and exhibit a superb clarity, richness, texture, depth of fruit, elegance, and puissance.
It's no surprise that Chateau d'Or et de Gueules has been recognized among the top 100 Best Wineries in the World by Wine and Spirits magazine. The dedication to quality, the commitment to innovation, and the unwavering pursuit of excellence make Dianne's domaine a true gem in the world of wine.
Our carefully curated selection, with two whites and two reds, will hopefully act as a wonderful cross-section and introduction to Diane's magnificent range. This mixed case is your passport to the realm of Chateau d'Or et de Gueules, don't miss out on the opportunity to experience these extraordinary wines first hand.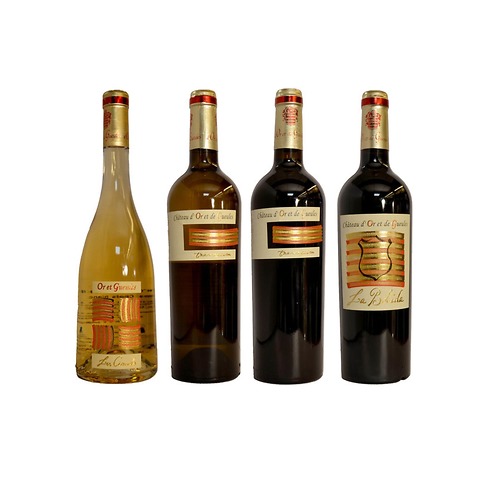 Our 'Chateau d'Or et de Gueules Discovery Case' is a six-bottle mixed case containing the following wines:
1 x 2022 Les Cimels Blanc – 15.90 2 x 2022 Trassegum Blanc - £16.00 2 x 2020 Trassegum Rouge - £16.00 1 x 2018 La Bolida - £27.00
2022 Les Cimels Blanc
The 2022 Les Cimels is a delightful white wine that showcases a beautiful blend of Grenache Blanc, Rolle, and Roussanne. Hand-harvested, the grapes are crushed directly from picking and undergo fermentation in tanks at low temperatures, without the use of wood.
In the glass, this wine displays a pale-yellow colour and, on the nose, you'll be greeted with enticing notes of citrus and delicate white flowers. This is a crisp and medium-bodied white, the palate offers a harmonious balance and refreshing acidity, rock solid notes of white peach, citrus rind and hints of green herbs. When it comes to food pairings, the 2022 Les Cimels is extremely versatile. It pairs wonderfully with various seafood dishes, shellfish, and oysters. The wine's vibrant flavours and crispness also make it an excellent accompaniment to grilled fish. Additionally, its freshness and subtle aromas of citrus fruits and grapefruit make it a perfect match for salads featuring fresh goat cheese.
2022 Trassegum Blanc
The 2022 Trassegum Blanc is an exquisite white wine crafted with precision and care. This blend consists of 80% Roussanne, complemented by 10% each of Grenache Blanc and Rolle. The grapes are meticulously hand-harvested to ensure optimal quality. During the winemaking process, the grapes are crushed immediately after picking. The Roussanne undergoes fermentation in barrels, which imparts a rich, full-bodied character to the wine. On the other hand, the Grenache Blanc and Rolle are fermented in tanks, preserving their vibrant fruit flavours.
The wonderfully aromatic nose is filled with captivating aromas of jasmine and peach blossoms. Following on the palate this wine offers a complex balance, thanks to the combination of the Roussanne's creamy texture from barrel fermentation and the lively freshness of the Grenache Blanc and Rolle. Exotic notes of peaches and tangerines sing out in the mouth accompanied by citrus notes, subtle spices and a gentle and enticing creaminess. This wine is truly versatile when it comes to food pairings. Its complexity and richness make it a fantastic match for seafood dishes, grilled white meats, and creamy pasta dishes. It also pairs beautifully with aromatic cheeses, adding another layer of enjoyment to your tasting experience.
2020 Trassegum Rouge
The 2020 Trassegum rouge is a captivating, muscular and deep red, crafted from Syrah, Carignan and Mourvèdre: the latter two hand harvested from over 80-year-old vines. The wine is then aged for one year in French barrels, before spending two additional years in tanks to achieve smoother texture and tannins.
The wine is a deep inky purple in the glass and its aromatic nose offers a delightful array of dark fruits, floral notes, and enticing spices complemented by hints of incense and black olives. On the palate, the wine reveals a spicy and concentrated mouthfeel with excellent length. The wine is dark, full-bodied, filled to the brim with deliciously ripe stewed black fruits, richly textured and muscular. However, the wine never falls into the realm of 'too much', there is a harmonious balance, wonderfully purity and real elegance. It should provide great drinking over the next 5-6 years.
For a hearty and satisfying meal, enjoy it alongside a succulent rib of beef and potatoes. The wine's richness also complements flavoursome dishes like duck breast and kidneys with Madeira sauce.
2018 La Bolida
La Bolida comes from Diane's oldest vineyard with vines approaching 100 years of age and yields of 8hl/ha taken from four separate tries. It is fermented and aged in oak and is utterly spectacular. 90% Mourvèdre, this hand-picked gem undergoes a long fermentation process with pigeage, followed by 12 months aging in barrels and is bottled with no fining or filtration.
Lovely aromas of ground cassia and raspberries give way to a medium to full-bodied palate loaded with complex briary fruit, intense tannins and a long, richly textured finish. The density and ripeness of the intoxicating fruit flavours is truly remarkable, whilst a pleasant mineral line offers a welcome freshness and levity. Whilst delightful now, it promises to evolve gracefully over the coming 5-10 years, possibly longer.
In stock
£106.90
Be the first to hear about our wine tasting events, offers & new imports
Join thousands of other wine lovers & subscribe to get news about our latest offerings, new vintages and tastings delivered straight to your inbox